Your favourite websites
ready for a quick catchup.
Easily save, organize and batch-open your favorite links. Just one click to stay up to date with the content you care about. It's like your Bookmarks bar, but better.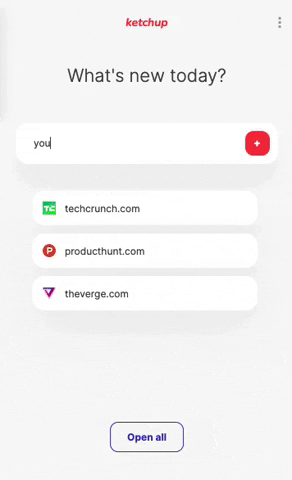 There is a better way to open all your favorite websites 🤔
In a perfect world, we'd have a limitless amount of time to catch up on all the news we're interested in, from the journalism and media outlets we love. Sadly, the world isn't perfect (yet).
It's frustrating having to daily open the same websites over and over again, one… at… a… time, just to stay updated on what's happening. You can use the Bookmarks bar you say? But the Bookmarks bar feels like noise on screen and ends up being full of useless stuff which you have to sort through to find the right links to open and read.
Ketchup saves all the links hidden away and with ONE click you can load them all again to catch up on the content you're interested in so you can get back to work, planning that trip or writing that novel.
You can open your links one-bye-one 🐢
Every morning when we start work we waste the first 15 minutes opening up links to blogs and regular websites from our bookmarks… and we need to stay updated constantly so we repeat this several times a day.
😱 The Chrome Bookmarks Bar is good as a reference but ends up being too full of random, useless stuff and takes ages to find the things you need to constantly catchup on and open 7 sites at one go becomes a hassle. 
🚫 Typing the URLs manually, one at a time, is so annoying and time consuming!! And many times we find ourselves in a random browsing spiral.
You can find similar Chrome extensions but… 😤
On the Chrome store there are other extensions which do a similar job as ketchup. Most of these are only focused on opening a string of URLs pasted in a basic text box. None are built specifically to help you open a list of website and go through them quickly.
💩 All of the similar extensions look horrible and just focus on the functionality… we want things to look good ay?! 😉
🙉 They are bloated with features and haven't been maintained in years (… but mostly they don't look good).
How much is this costing you? 💪
What's the cost of not fixing their problem and getting the results they want? 
Quantify this as much as possible.
ketchup makes it easier to visit the websites you care about 🎉
Why are we surprised that some people would find it useful to have a list of all their favorite websites in one place? The Bookmarks bar is full of noise, making it hard to work with and difficult to find the right link you want to open.
Ketchup helps you organize all the websites you visit on a daily basis. One click opens all the websites instantly, and you can quickly get back to the work which really matters.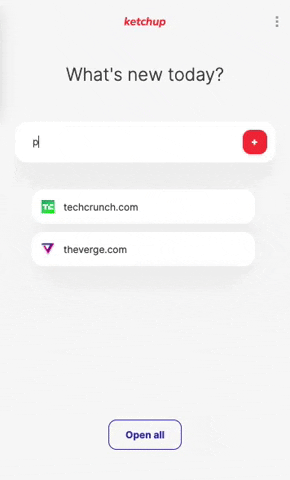 Add your favorite websites to ketchup.
This way you'll find them ready for when you need to stay up to date with the content you care about
Need to sort the order in which they open? 
Just drag and drop in the correct order.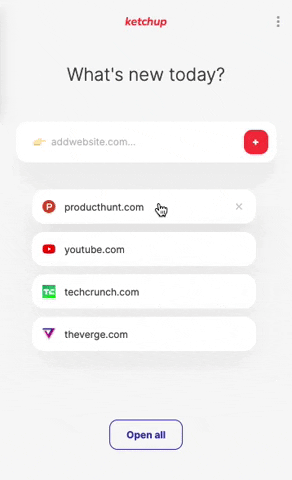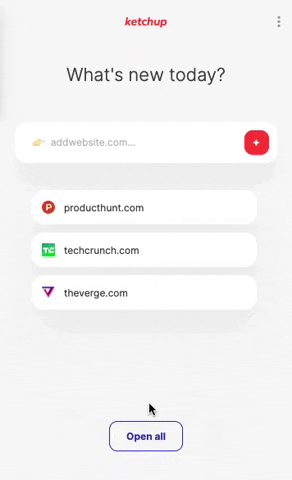 Open your links with one click! 
One-click to open all or just open them one by one. You choose! 
One-click to open can also be disabled from within the Settings, and then the first click opens ketchup and you can see the list, order it, delete items, open an individual link or "Open All"
… much better than having to manually write all your URLs 5 times a day.
Be one of the first to try ketchup and see how it becomes part of your daily content consumption routine.  Ketchup saves all your must-read links, without clutter and with ONE click you can load them all again to catch up on the content you're interested in. It's perfect for that moment when you need to quickly have an overview of what's going on online.
Try it now on Chrome.
How are you using ketchup?